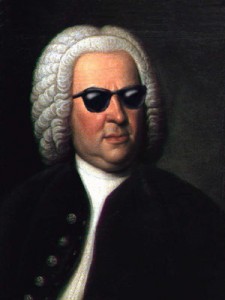 Hats off to Elvis and all, but Bach really IS the king! In my opinion (never wrong yet) and that of lots of folks, past and present and future, JSB sits at the very top of the totem pole. Historical considerations aside, the real reason is that his music is, for many, far and away the greatest achievement of anyone working in the Euro tradition.
Within the huge body of music JSB left, the very centre is, arguably, the two hundred or so surviving cantatas. As usual, my own interest, particularly in the arias, came from the study of musicianship. I just wanted to know what it was like to experience this music from the inside. Initially, what attracted me to the arias was the Bach Példatár, a great collection of excerpts edited by the Hungarian scholar Legányné Hegyi Erzsébet. Things rapidly escalated from there. To the single-line examples in the Bach Példatár, I added the bass lines (available here as "Aria excerpts," so you no longer have to seek out the Bach Példatár). From there, I thought it would be fun to edit those arias which use continuo only, since I figured the rewards would be amazing. They were, even with bass realized by a stiff computer, but soon I craved more, so I started in on the arias with a single obbligato part, hopefully of the more singable variety (read "oboe" here). Next was a series of excerpts consisting of the more singable instrumental ritornelli (available here). Currently, I'm looking at the arias with string accompaniments, sometimes with an added obbligato part, and also the recits which, from an ear-training point of view, offer, bar for bar, arguably the most daunting challenges of all. Who knows, if I live another hundred years, I may actually get this project finished. Then I have to memorize it!
One of the reasons Bach's vocal music can be so hard to learn is that, since he was setting words, his dramatic sense often led him to harmonic resources that would never come up in a piece of abstract instrumental music. Technically, this has mainly to do with his use of modulation, but it also reflects the complexity of the vocal line itself. When Bach is imagining the last judgment or the fear of God or death and grieving, the music underscores the text, often in astonishing ways. No surprise then, that the arias can be so taxing for the singer.
You'll notice that, after all of that, I haven't actually included any complete arias on this site, although I may be tempted to at some point. It's too much. If you are interested in anything in particular though, or a certain canata, please get in touch. If I have what you're after, I'd be glad to send the pdf / midi / finale file as needed.
To keep things in perspective, I do realize that Bach was up to more than writing the world's greatest vocal music. Because my interest is mainly on the analytical and theoretical side of things, I've edited a bunch of his most famous keyboard works in open score. And on and on. Take a look around, there are many treasures here, either for free or for cheap.
Downloads
Keyboard fugue in D minor, BWV 903
click here
Keyboard fugue in A minor, BWV 904
click here
Keyboard fugue in E minor, BWV 914
click here
3-pt Sinfonias in open score 15 Sinfonias
click here
Aria excerpts based on Bach Peldatar. 274 aria excerpts
CDN $10.00
click here
Art of Fugue in open score
CDN $10.00
click here
Musical offering – 2 ricercars in open score Ricercar 1
click here
Musical offering – 2 ricercars in open score Ricercar 2
click here
Organ fugue in open score BWV 538 – D Dorian
click here
Organ fugue in open score BWV 542 – G minor
click here
Organ fugue in open score BWV 543 – A minor
click here
Organ fugue in open score BWV 545 – C major
click here
Organ fugue in open score BWV 546 – C minor
click here
Organ fugue in open score BWV 548 – E minor "Wedge"
click here
Organ fugue in open score BWV 552 – E-flat major "St. Anne"
click here
Organ fugue in open score BWV 578 – G minor "Little organ fugue
click here
Ritornelli
CDN $10.00
click here
Schemelli Liederbuch Songbook preface
click here
Schemelli Liederbuch Songbook
CDN $10.00
click here
WTC I fugues in open score. CDN $10.00
click here
WTC II fugues in open score. CDN $10.00
click here